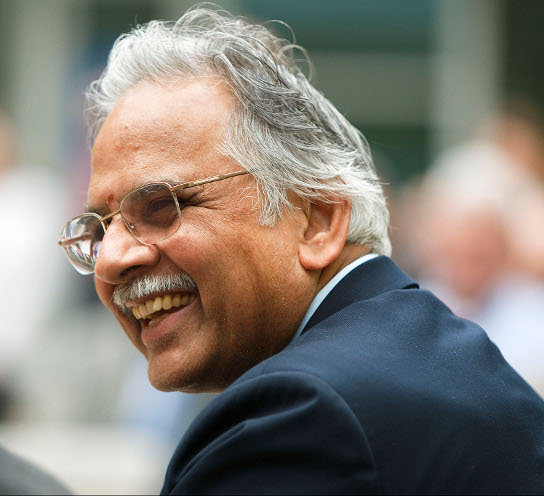 Research
Current Research Activities of
Mathukumalli Vidyasagar
Fellow of The Royal Society
SERB National Science Chair &
Distinguished Professor
Indian Institute of Technology Hyderabad
Notes
I specifically chose the above photo, crow's feet and all, just to highlight the point that research should be fun!

This page contains a description of my current research interests, recent papers and papers awaiting publication, and recent seminar presentations. Reprints of scientific papers that are already published can be found under "publications" while other writings can be found under (what else?) "other writings."
Contents
Current research interests
Recent Publications
COVID-19-Related Material
Slides of some recent talks
Current Research Interests
My current research is in the area of Reinforcement Learning, with emphasis on using stochastic approximation theory as a means to unify various algorithms currently in vogue. More broadly, I am interested in machine learning, systems and control theory, and their applications. Until recently I was exploring the area of compressed sensing, that is, determining high-dimensional but low-complexity objects from a small number of measurements. On the applications front, I am interested in applying ideas from machine learning to problems in computational biology with emphasis on cancer.
Recent Publications
Preprints
Books
Recent Journal Publications (inverse chronological order)
For older publications, please see the tab "publications"
COVID-19-Related Material
Research Papers
Preprint
Talks, Slides, etc.
Slides of Some Recent Talks