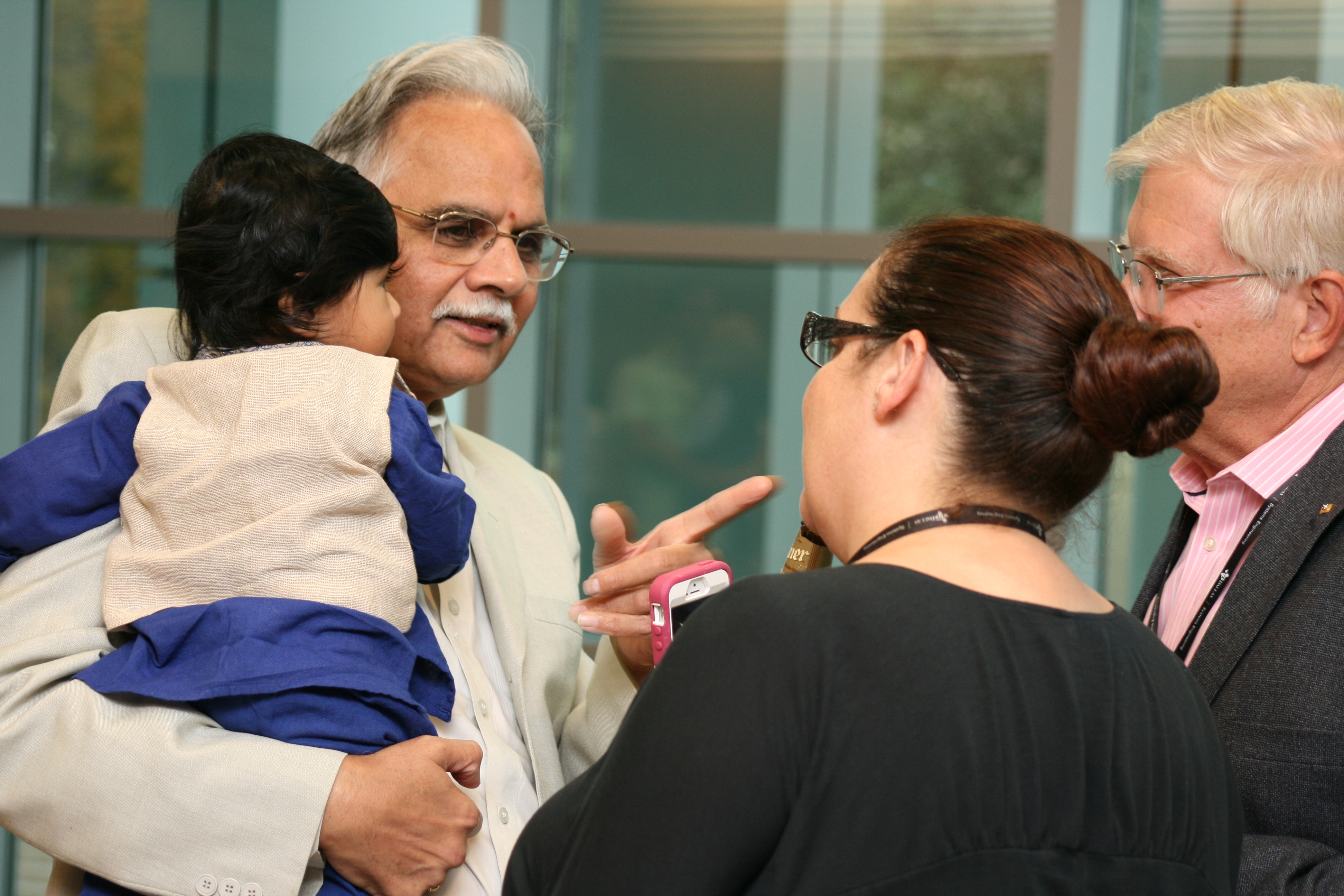 Photo Gallery
Photo Gallery of
Mathukumalli Vidyasagar
Fellow of The Royal Society
National Science Chair &
Distinguished Professor
Indian Institute of Technology Hyderabad
Contents
Poster from the 2010 International Congress of Mathematicians
Images from The Royal Society Induction Ceremony
Images from The Royal Society Charter Book
Photos from Glover-Fest, April 2006
Photos from Sagar-Fest for my 70th birthday, September 2017
Other Photos of Myself
Poster from ICM 2010
Poster from the 2010 International Congress of Mathematicians held in Hyderabad. It lists 21 "excellent Indian mathematicians of the nineteenth and twentieth century". My father's name is just above that of Harish-Chandra. image
Images from The Royal Society Induction Ceremony
<! (Caution: The images are of high resolution and may take a lot of time to load.)>

The following photos are provided through the kind courtesy of The Royal Society. They were taken at the time of my induction on 13 July, 2012 (Friday the 13th!)
Images from The Royal Society Charter Book
The charter book of The Royal Society dates back to 1663 and contains the signatures of (almost) all Fellows and Foreign Members. Two notable exceptions I found were Einstein and Ramanujan. The signatures of Original Fellows such as Robert Hooke and Christopher Wren are found on page 1 (I believe). Newton signed on page 9. We signed on page 150. It is truly a humbling experience to see the signatures of all-time greats of science and makes one question whether he really belongs in their company.
The pages are made of vellum and are practically indestructible. Clearly there are enough blank pages to last another century. (See the photo of me signing the book, above.) In earlier years new Fellows signed using a quill pen (albeit with a metal tip), an exercise that apparently "terrified" them. This year they gave us the option of signing with a fountain pen (yuk) or a nib pen. About half of us, including myself, opted for the nib pen dipped in a pot of ink as being closer in spirit to the quill pen.
Assembled here are some notable signatures. I took these photos myself so the choice of personages is dictated by my own taste.
Photos from Glover-Fest, April 2006
The photos in this section are all taken at Cambridge on the occasion of Keith Glover's 60th birthday.

Some more photos from GloverFest, April 2006, Cambridge, UK
Photos from Sagar-Fest 2017 for My 70th Birthday, September 2017
Photos of Myself
Receiving the DRDO Scientist of the Year Award in September 1997 from the then Prime Minister of India, I. K. Gujral. My then boss and later President of India Dr. Abdul Kalam can also be seen, and the then Defence Minister Mulayam Singh Yadav can be partly seen in the photo. image
Some photos from December 2008, when I received the IEEE Control Systems Award.
Receiving the IEEE Control Systems Award from IEEE President John Vig in December 2008. image
Pontificating and prognosticating during my acceptance speech; my fifteen minutes of fame had shrunk to eight minutes due to inflation. image