Locations
Venue

The conference will be held at Keio University's Mita Campus. Located in the middle of Tokyo's urban district, campus has a good access from both Narita and Haneda Airports.
Please see the directions from the University's web site .
Conference Session Locations

East Building right at the East Gate of the Campus is where our conference sessions are held. We are also preparing a special program for guest speakers from Japan and abroad.
Please check back our program page later for more details.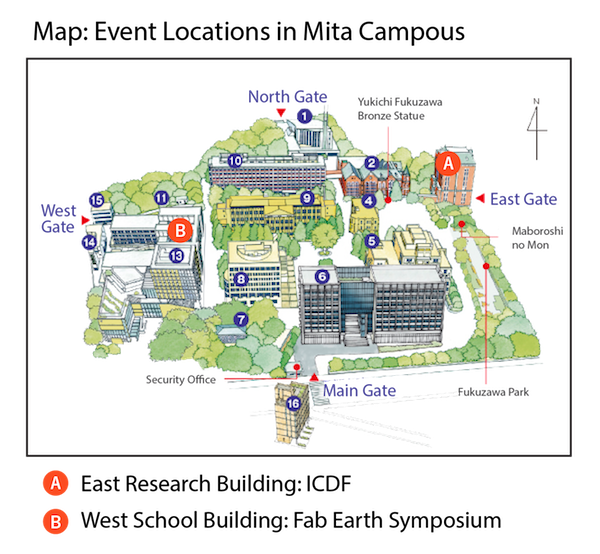 Accommodation
1. Recommended Hotel
One of the closest hotels to the venue is Hotel Celestine. We have secured a number of rooms for the conference participants with a discount rate. Please let us know if you would like to stay at the hotel by filling out the form here: FORM (Google) .

The rooms are limited, and we will stop taking requests when they run out or on the Feb. 19th, whichever comes earlier. If you have already booked a room with Celestine before Feb 8, and want to change your reservation, please contact us via email at fabearth@sfc.keio.ac.jp
2. Other places
There are other hotels nearby. Please feel free to pick as you see fit. The train stations near the venue are:


- Mita Station, Mita Line
- Mita Station, Asakusa Line
- Tamachi Station, JR Yamanote Line

In choosing your hotel, it is perhaps better to pick some hotel close to stations on one of these lines.

The address of the venue, Mita Campus of Keio University, can be found in the University's web site.
http://www.keio.ac.jp/en/maps/mita.html